To stay informed about CCPH and its partners' initiatives, sign up for our monthly e-blast. You'll receive information on upcoming events and webinars, recent publications related to health equity, job opportunities in our community, and more.
Explore our past e-blasts here.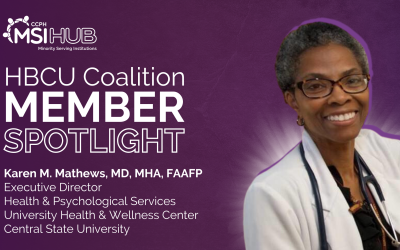 Get to know MSI Hub HBCU Coalition Member Karen M. Mathews, MD, MHA, FAAFP. She serves as the Executive Director of Health & Psychological Services in the University Health & Wellness Center at Central State University. In April, she led an incredibly informative session about HBCU student-centered mental health services and solutions that she and her team have implemented for students at Central State University for our HBCU Coalition meeting.