To stay informed about CCPH and its partners' initiatives, sign up for our monthly e-blast. You'll receive information on upcoming events and webinars, recent publications related to health equity, job opportunities in our community, and more.
Explore our past e-blasts here.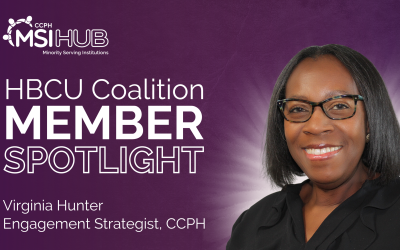 Community-Campus Partnerships for Health, in partnership with RTI International, is utilizing our diverse network and partnerships with college and university affiliates to increase the engagement of Historically Black College and University (HBCU) students, faculty, staff, and researchers in the All of Us Researcher Academy and use of the All of Us Researcher Workbench. We recently sat down for a conversation with our Engagement Strategist, Virginia Hunter, whose work with CCPH helps increase the visibility of the program at HBCUs.
As an alumna of an HBCU with deep roots in the community, Virginia shares her personal connection to HBCUs, her hopes for the All of Us Research Program, and why it's important. Continue reading to learn more.