Join us each session on Wednesdays at 1pm EST as we highlight the disparate impact of the disease in the most vulnerable communities in our nation. Please see below for information on each session, invited speakers and the link for registration. Each session will be recorded and transcribed and linked on this webpage.
Upcoming Sessions
Check out the recordings from previous sessions linked below!
Upcoming topics include immigration, indigenous community response, educational equity and more. Subscribe to our mailing list to be notified.
Past Sessions:
Click each link to access past session recordings, presentations and related resources.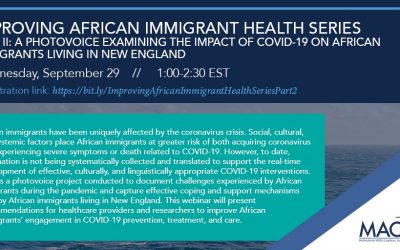 Join us for: Improving African Immigrant Health SeriesPart II: A Photovoice Examining the Impact of COVID-19 on African Immigrants Living in New England Date & Time:Wednesday, September 29, 1-2:30 EST Description:African immigrants have been uniquely affected...
Partnership
This webinar series is brought to you in partnership with the UNC Center for Health Equity Research (CHER) at the University of North Carolina at Chapel Hill. UNC CHER brings together collaborative, multidisciplinary teams of stakeholders to improve health in North Carolina communities with a shared commitment to innovation, collaboration, and health equity.
Sponsors
Clinical Scholars is a national leadership program for experienced health care providers supported by the Robert Wood Johnson Foundation.
UNC Rural: Website | Twitter
Get in Touch. Get Involved.
We look forward to connecting with you.
PO Box 12124, Raleigh, NC 27605