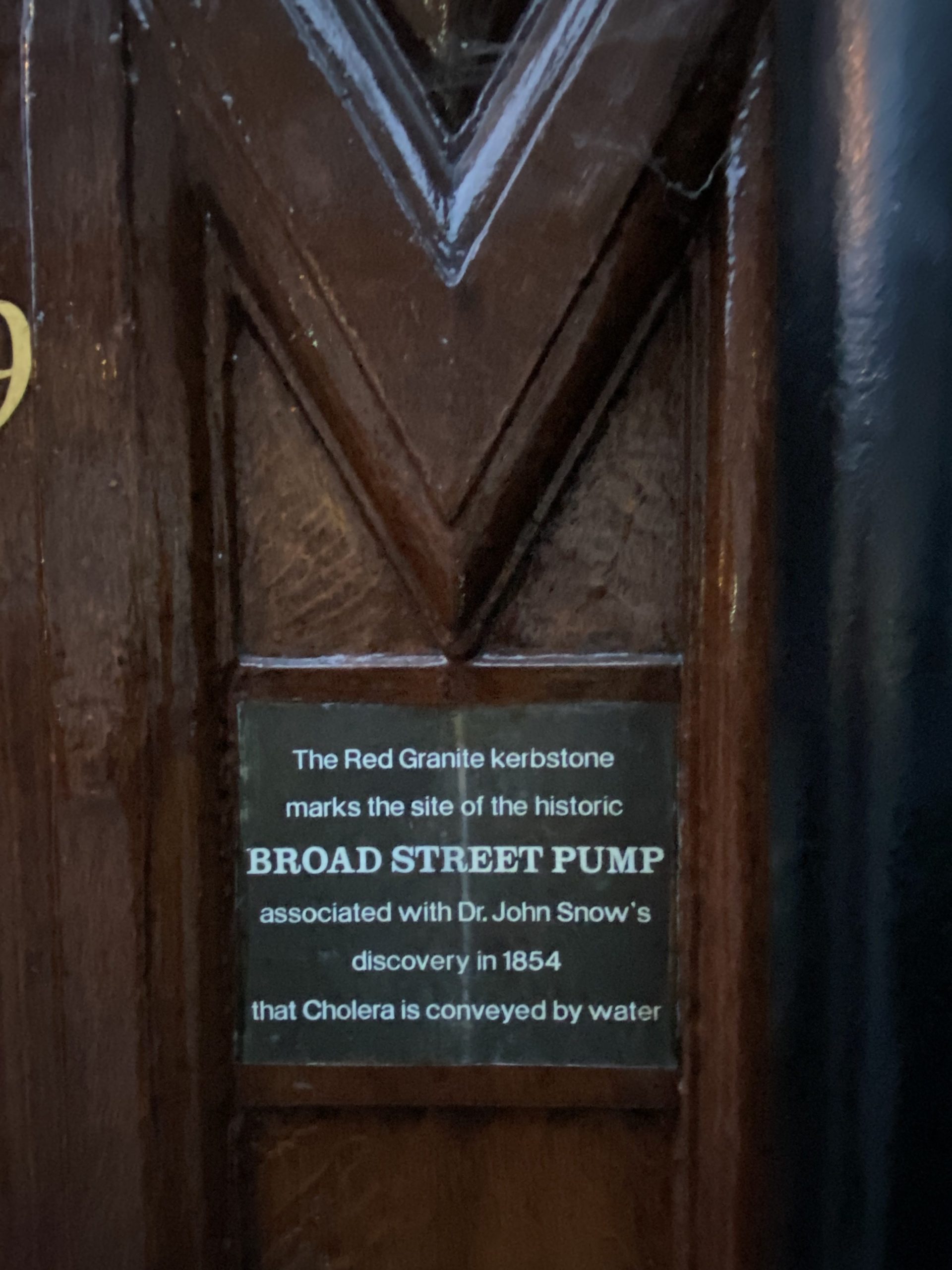 I was in England earlier in March and visited Dr. John Snow's water pump on Broad Street in Soho, London. In 1854, Snow realized the pump handle was the point of spread of the cholera bacteria that had killed ~500 people in the area. He had the handle removed and saw a drop in new cholera cases. A milestone in epidemiology!
Seeing the Broad Street water pump was a significant moment for me—to see how something as simple as removing a pump handle had such a large and positive effect. This brings me to another important time period that is making history: our current COVID pandemic. We've entered the 4th year and must continue to review public health emergency and pandemic preparedness, efforts by the community at large using the socio-ecological model, impact on health and mortality around the world, ways to reach every human and prevent, protect, treat, and rehabilitate those with long COVID.
COVID dealt a heavy blow to many, but to refugees especially. They have unique barriers. Refugees take jobs that many Americans refuse. They are often frontline supply-chain workers who have worked all throughout the pandemic at local chicken packaging factories, for example. They are fearful of losing their jobs and hesitate to get tested or seek medical help when symptomatic for COVID. They have multigenerational family structures, and for the older family members living in cramped apartments, social distancing from those who work becomes difficult. Language barriers and data aggregation are other unique barriers. Public health professionals and policymakers must recognize these barriers, demonstrate a heightened sensitivity to plan appropriate public health interventions for refugees, and advocate for measures that ameliorate systemic barriers.
My time at CCPH has been an exceptional learning experience. Last week I attended an outstanding webinar about Alignment, Accountability, and Sustainability in CBPR: Staying Anchored in Core Values and Principles, hosted by CCPH and the Detroit URC. CCPH has been extremely supportive of my efforts to bring up issues related to refugee health during COVID. I appreciate Al Richmond, Charrise Iglesias, Cindy Gudiño, Ryann Marlar, and Kunga Denzongpa for this.
The Greensboro Experience: Refugee Health Disparity During a Pandemic
I organized an event on Tuesday, April 4, 2023, about The Greensboro Experience: Refugee Health Disparity During a Pandemic. Greensboro was one of four cities in the USA to start resettling refugees in the early 1980s and was spearheaded by Dr. Raleigh Bailey, a nationally recognized expert on immigration and refugee policy. A unique kaleidoscope of cultural diversity and integration, Greensboro is considered a "Model Global Gateway" and "Welcoming City" as we are hospitable to new North Carolinians. Multiple local programs help refugees, and immigrants achieve independence – who bring new skill sets, stimulate the economy with frontline jobs in food industries, and start businesses that offer employment. They also make tangible contributions through community volunteering projects very soon after resettlement. Learn more about the event here.
–
Resources to continue learning about the Refugee Health Disparity & The Greensboro Experience
How refugee resettlement started in the US & Greensboro
How Greensboro dealt with mental health issues among Cambodian refugees who fled genocide
Post-Khmer Rouge Peace Settlement and the aftermath of land mines continuing to create victims
Correction: An earlier version of this story contained a significant error in the timeline when John Snow realized that water from the community water pump in London was the cause of cholera and his removal of the pump handle. This occurred in 1854, not "about 7-8 decades ago," as the article stated. Learn more here.