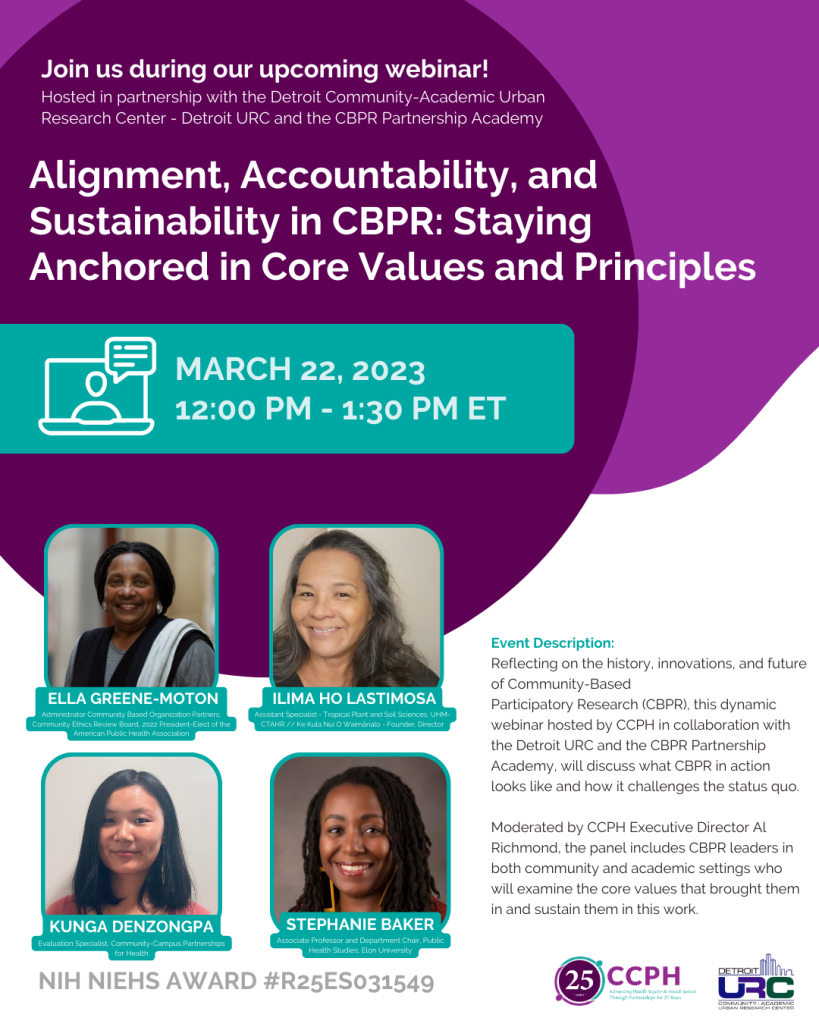 March 1, 2023, from 12:00 PM – 1:30 PM ET
Reflecting on the history, innovations, and future of Community-Based Participatory Research (CBPR), this dynamic webinar hosted by CCPH in collaboration with the Detroit URC and the CBPR Partnership Academy will discuss what CBPR in action looks like and how it challenges the status quo. Moderated by CCPH Executive Director Al Richmond, the panel includes CBPR leaders in both community and academic settings who will examine the core values that brought them in and sustain them in this work.
Moderator
Al Richmond, Executive Director CCPH
Panelists
Ilima Ho Lastimosa
Heidi ILIMA Ho-Lastimosa, Assistant Specialist – Tropical Plant and Soil Sciences, UHM-CTAHR // Ke Kula Nui O Waimānalo – Founder, Director
Aloha from God's Country, Waimānalo. My name is Ilima Ho-Lastimosa, from Waimānalo Hawaiian Homestead in Waimānalo, Hawaii. I am a founding member of Ke Kula Nui O Waimānalo, a non-profit that is effective in keeping our practices and life ways alive and flourishing within the community. Aloha IS My Superpower! Mahalo!
Ella Greene-Moton
Ella Greene-Moton, Administrator Community Based Organization Partners, Community Ethics Review Board, 2022 President-Elect of the American Public Health Association
Ella has an extensive background in public health advocacy, Public Health Policy, Community-Based Participatory Research (CBPR), and programming, spanning over the past forty-plus years in the City of Flint and surrounding areas. She currently serves as Administrator of the Community Based Organization Partners (CBOP) Community Ethics Review Board (CERB), with specific efforts in public health Ethics focused on providing an awareness at the community level, developing and elevating the community voice and advocating for community inclusiveness at the State and National Levels. Her expertise includes facilitating community/academic/practice partnership building and sustainability and developing and managing community-based projects. She is also excited to have been elected the 2022 President-Elect of the American Public Health Association.
Stephanie Baker
Associate Professor and Department Chair, Public Health Studies, Elon University
Stephanie Baker is Associate Professor and Chair of the Public Health Studies Department at Elon University. Her work uses anti-racism and intersectionality lenses, combined with community-based participatory research approaches, to understand and address health inequities. Her recent efforts, in collaboration with community partners, has focused on birth justice, equity in the Community Health Assessment, and creative methods of sharing research findings. She is especially excited about co-creating a documentary-dance film titled Reclaiming Power: The Black Maternal Health Crisis. She is an organizer and trainer with the Racial Equity Institute, a member of the Black Pearls Society, Inc, and a member of Alpha Kappa Alpha Sorority, Incorporated. She hopes to contribute to racial justice, social justice and liberation movements through teaching, research, and community and institutional organizing.
Kunga Denzongpa, PhD, MPH
Kunga Denzongpa, Ph.D., MPH, Evaluation Specialist, Community-Campus Partnerships for Health
Kunga completed her doctoral training in public health with an emphasis on community health education from the University of North Carolina Greensboro (UNCG). She has extensive experience in cross-cultural community-based participatory research among refugee and immigrant communities. As a Sikkimese-Himalayan tribal minority raised in a collective community, her passion is rooted in equitable approaches to community and health.