Photo Courtesy of Priya Sarin, Kraft Community Health
The Rapid Acceleration of Diagnostic-Underserved Populations (RADx-UP) Program is a consortium of community-engaged research projects whose aim is to transform COVID-19 research to eliminate health disparities heightened by this pandemic. This nationwide program builds innovative and sustainable solutions to expand testing access and uptake in underserved, vulnerable communities. These community projects are supported by the Coordination and Data Collection Center (CDCC), whose vision is to use a community-centered approach. CDCC serves the community project teams and their community partners through education, training, implementation guidance, and coordination by supporting projects across the country with established community partnerships.

CCPH celebrates two rewarding years of partnership with the Rapid Acceleration of Diagnostics – Underserved Populations (RADx-UP) project. A consortium of over 125 community-based projects focused on expanding access to COVID-19 testing across the U.S., RADx-UP demonstrates how essential community engagement is to researching and addressing health disparities. View the newly-released video to hear from CCPH Executive Director Al Richmond and other RADx-UP leaders about this essential work.
People involved in the program
This program is a partnership with The Duke Clinical Research Institute at Duke University and the Center for Health Equity Research at the University of North Carolina at Chapel Hill. Al Richmond, CCPH Executive Director, serves as the Co-Lead of the Engagement Core. The RADx-UP team consists of a Director of Community Engagement & Capacity, Community Engagement Manager, Community Engagement Coordinators, and consultants to support the four CDCC functional cores. 
Research resulting from the program
CCPH supports research projects and initiatives to build robust and sustainable programs that advance COVID-19 testing and ensures that best practices and technical assistance for community engagement research are applied through a health equity and social justice lens. 
2020-2021: Year in Review
Community engagement resulting from the program
CCPH's support of the CDCC is pivotal because its broad reach into communities throughout the United States will help to accomplish a key goal of enhancing the projects' engagement efforts to expand COVID-19 testing access and uptake in communities of color. CCPH community engagement work is far-reaching and constantly increasing through new partnerships, including the CDCC RADx-UP community projects, their community partners, and new collaborative community grantees. 
CCPH's involvement in the program
CCPH's involvement in the program supports a community-centered, flexible program infrastructure and a participatory and inclusive community engagement program. Specifically, CCPH provides the following services to support the CDCC:
capacity-building to RADx-UP projects

training and technical assistance for community engagement approaches to identify and address barriers to implementation

serve as a robust knowledge repository

provide content expertise in the design and implementation of the convenings
RADx-UP Training and Services Menu
Meet the Community-Campus Partnerships for Health RADx-UP Team
Information Dissemination
For additional information, visit the CDCC RADx-UP website:  https://radx-up.org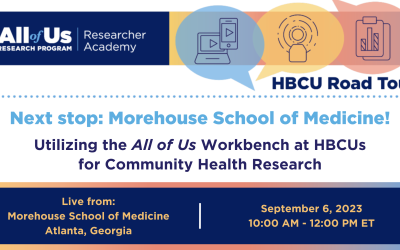 Join us virtually or in person for our next stop on the All of Us HBCU Road Tour at Morehouse School of Medicine in Atlanta, Georgia.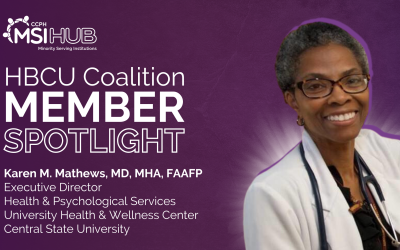 Get to know MSI Hub HBCU Coalition Member Karen M. Mathews, MD, MHA, FAAFP. She serves as the Executive Director of Health & Psychological Services in the University Health & Wellness Center at Central State University. In April, she led an incredibly informative session about HBCU student-centered mental health services and solutions that she and her team have implemented for students at Central State University for our HBCU Coalition meeting.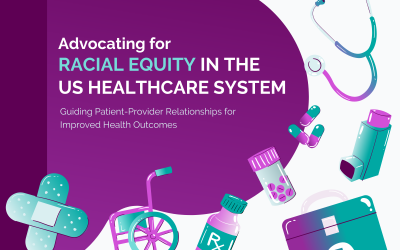 View The Digital Resource