Ryann Marlar, Senior Content Coordinator, from Stratos Creative Marketing got a chance to hear from Magdalene Wellman, MPH, CHES®, CCPH Program Manager and Fatima Guerrab, MPH, CHES®, CCPH Program Coordinator, about a recent presentation on equitable partnerships with the RADx-UP Community Engagement Core.
What was the purpose of the presentation?
Staff of the Community Engagement Core recently discussed how they define and understand community engagement and relationship building. From that discussion, three themes emerged:
Equitable power and resource structures
Mutually beneficial relationships and community-centered approaches
Silo reduction
The CCPH RADx-UP team was asked to share more about these themes and the role they play in building equitable partnerships.
Who was the target population for this presentation?
The virtual presentation was conducted for Community Engagement Core staff affiliated with the Coordination and Data Collection Center (CDCC).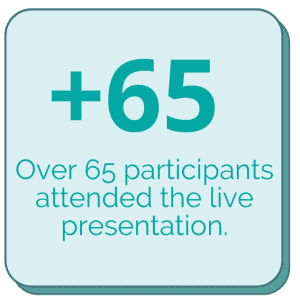 What did attendees gain from watching this presentation?
Equitable power structures lead to healthy working partnerships because they allow everyone
involved to have their voice heard without fear or condescension. Equitable resource structures ensure all partners have access to the resources (e.g., funding,materials, staff, time, etc.) necessary for success. Attendees learned about the roles intersectionality, engaging discomfort, and grassroots advocacy play in building equitable power and resource structures.
The presentation ended with a facilitated panel discussion amongst distinguished community and academic partners who highlighted vital steps to be considered at each stage of the research process as community and academic partners strive to build equitable partnerships.
Who were the presenters and panelists for this discussion?
Presenters for the discussion included:
To learn more about the presenters' experience and work at CCPH, click on their name.
Panelists for the discussion included:
Ella Greene-Moton: Community Director, Methodology Core, Flint Center for Health Equity Solutions; Former Member & Chair, CCPH Board of Directors
Dessie Levy, PhD: Assistant Professor, Clinical and Translational Science Institute (CTSI), Assistant Director of Community Engagement Initiatives, Medical College of Wisconsin; Co-investigator, RADx-UP Fight COVID Milwaukee Project
Priscilla Wallace, MSOD: Program Director, RADx-UP: Fight COVID Milwaukee Project
John Meurer, MD, MBA: Professor of General Pediatrics and Community Health, Director of the Institute for Health & Equity, Medical College of Wisconsin; Co-Principal Investigator, RADx-UP: Fight COVID Milwaukee Project
Why are equitable partnerships so important to the work that CCPH does?
Equitable partnerships are at the core of CCPH's work over the last 25 years. CCPH has extensive experience studying, examining, engaging in, and evaluating what makes partnerships work, sustain authenticity, and achieve change in communities.
Make sure to check out the Equitable Partnerships Presentation Summary here for key takeaways and highlights from the panel discussion.